The founder-members of the most controversial heavy rock band of the late 80s included Axl Rose (an anagram of Oral Sex) (b. William Bailey, 6 February 1962, Lafayette, Indiana, USA) and Izzy Stradlin (b. Jeffrey Isbell, 8 April 1962, Lafayette, Indiana, USA). Vocalist Rose, who had first sung at the age of five in a church choir, met guitarist Stradlin in Los Angeles in 1984. He changed his name to Rose at the age of 17 when he discovered who his real father was, the Axl prefix coming from a band with whom he had rehearsed in Indiana. With Tracii Guns (guitar) and Rob Gardner (drums), they formed a rock band called, in turn, Rose, Hollywood Rose and L.A. Guns.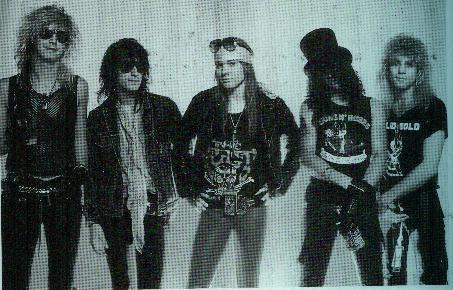 Soon afterwards, Guns and Gardner left, to be replaced by two members of local band Road Crew, drummer Steven Adler (b. 22 January 1965, Cleveland, Ohio, USA) and guitarist Slash (b. Saul Hudson, 23 July 1965, Stoke-on-Trent, Staffordshire, England), the son of a clothes designer and an album cover artist. With bass player Duff McKagan (b. Michael McKagan, 5 February 1964, Seattle, Washington, USA; ex-Fartz; Fastbacks; Ten Minute Warning; and approximately 30 other north-west bands), the band was renamed Guns N'Roses.

Following the disastrous US Hell Tour '85, Guns N'Roses released an EP, Live?!*@ Like A Suicide, on the independent Uzi/Suicide label. This brought intense interest from critics and record companies and in 1986 the group signed to Geffen Records, who reissued the EP the following year. During 1987 they toured extensively, though the group's appetite for self-destruction became readily apparent when Fred Coury of Cinderella was recruited to replace Adler temporarily, after the latter had broken his hand in a brawl. February 1988 also saw the first internal rift when Rose was kicked out, then reinstated, within three days. Their debut, Appetite For Destruction, produced by Mike Clink, went on to sell 20 million copies worldwide and reached number 1 in America a year after its release date. 'Welcome To The Jungle' was used on the soundtrack of the Clint Eastwood film Dead Pool, and reached the Top 30 in the UK.

The group's regular live shows in the USA and Europe brought frequent controversy, notably when two fans died during crowd disturbances at the Monsters Of Rock show at Donington, England, in 1988. In 1989 the eight-track album G N' R Lies was issued, becoming a big hit on both sides of the Atlantic, as were the singles 'Sweet Child O' Mine' (written about Rose's girlfriend and later wife Erin Everly, daughter of Don Everly), 'Paradise City' and 'Patience'. However, Rose's lyrics for 'One In A Million' were widely criticized for their homophobic sentiments. Although Guns N'Roses appeared at the Farm Aid IV charity concert, their career was littered with incidents involving drugs, drunkenness and public disturbance offences in 1989/90. At times their excesses made the band seem like a caricature of a 60s supergroup, with headlines screaming of Stradlin urinating in public on an aeroplane, Slash and McKagan swearing live on television while collecting trophies at the American Music Awards, and Rose's on-off relationship with Everly. In September 1990 Adler was replaced by Matt Sorum (b. 19 November 1960, Mission Viejo, California, USA) from the Cult. Apparently more restrained in their private life, Guns N'Roses added Dizzy Reed (b. Darren Reed; keyboards) for a 1991 world tour, where their exciting and unpredictable performances brought favourable comparisons with the heyday of the Rolling Stones.

In September the group released the highly publicized pair of albums, Use Your Illusion I and II, preceded by a version of Bob Dylan 's 'Knockin' On Heaven's Door' from the soundtrack of Days Of Thunder. Further hit singles, 'You Could Be Mine' (featured in the film Terminator II ) and 'Don't Cry', followed. The Illusion brace immediately sat astride the top two album positions in the Billboard chart, the first occasion on which they had been thus dominated since Jim Croce in 1974.

Izzy Stradlin found the pressure too much and left late in 1991, going on to form the Ju Ju Hounds. He was replaced by Gilby Clarke (ex-Kill For Thrills). Meanwhile, Slash's growing reputation brought guest appearances on recordings by Dylan and Michael Jackson. He also contributed to tribute albums to Muddy Waters and Les Paul, and subsequently established his own spin-off band, Slash's Snakepit. Guns N'Roses' appearance at the 1992 Freddie Mercury AIDS Benefit concert prompted the reissue of 'Knockin' On Heaven's Door', and while Dylan fans groaned with disbelief, the band's vast following was happy to see its heroes scale the charts shortly after the single's release.

While both of their previous albums remained on the US chart, having sold more than four million copies each, it was not until the end of 1993 that any new material emerged. When it arrived, it came in the form of The Spaghetti Incident, a much vaunted collection of cover versions with a punk foundation. A perfunctory affair, it was mainly notable for lining the pockets of several long-forgotten musicians ( UK Subs, Nazareth, Misfits, Fear, etc.), and for including a song written by mass murderer Charles Manson. The main inspiration behind the project, Duff McKagan, had his debut solo album released at the same time. However, reports of an unhappy camp continued to filter through in 1994, leading to the dismissal of Gilby Clarke towards the end of the year, following his own, highly public, outbursts about Rose. His replacement was Paul Huge, a former flatmate of Rose from his Indiana days. Huge's first recording with the band was a cover version of the Rolling Stones' 'Sympathy For The Devil' for the soundtrack to Interview With The Vampire. However, Huge stayed only briefly with the band, as did his replacement, Zakk Wylde (ex- Ozzy Osbourne ), who failed to record a single note with the band before falling out irreconcilably with Rose. In May 1995 Izzy Stradlin was reinstated as second guitarist, but by the end of the year Rose and Slash were again at loggerheads and no new album was imminent. Sorum and McKagen, meanwhile, teamed up with guitarist Steve Jones for the spin-off band the Neurotic Outsiders. Slash confirmed Rose's departure in November 1996, although this situation was reversed in February 1997 when Rose allegedly purchased the rights to the Guns N'Roses name. Later in the year, this was seemingly confirmed by the recruitment of Robin Finck, formerly of Nine Inch Nails, to replace Slash.