In the late-'80s Guns N' Roses changed the face of hard rock--and the scary thing is, they weren't even trying. For better or worse, nearly every rock band at the time tried to cop the quintet's raw, street-wise intensity, which took the bad-boy image to its most extreme.

Formed in the mid-'80s from the ashes of various Hollywood bands, including L.A. Guns, the original line-up included frontman Axl Rose (born Bill Bailey), guitarists Slash (Saul Hudson) and Izzy Stradlin (Jeff Isabelle), bassist Michael "Duff" McKagan and drummer Steven Adler.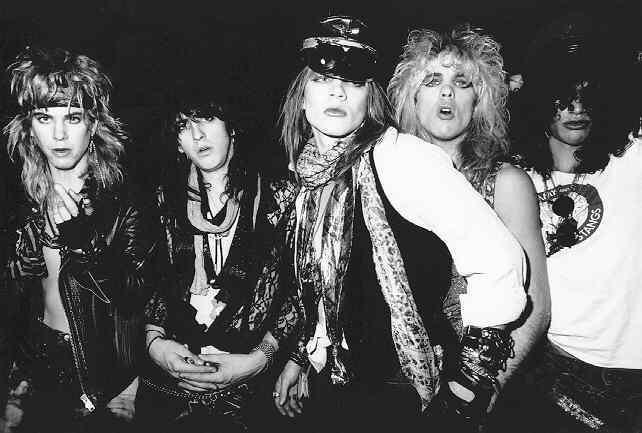 They already had a reputation for both their powerful live shows and fiery temperaments by the time Geffen signed them in 1986. The group's first full-length album, Appetite For Destruction, was released in 1987. It took a year for the record to reach Billboard's No. 1 slot, but after that, there was no stopping it. There was no stopping the band, either. Whether Slash was uttering four-letter words on national television or Rose was threatening to break up the band over various members' rampant heroin abuse--in front of a packed house at the L.A. Coliseum when GN'R was opening for the Rolling Stones, no less!--trouble seemed to dog them. Rose especially had a habit of railing against the media, then creating mayhem that the media found impossible to ignore. The decadent stories the band related in their debut album, and the subsequent Use Your Illusion I and II, were frighteningly real. So were the occasional bursts of pain and sensitivity illustrated in many of their songs.

It was inevitable that this volatile bunch would crash. The first to get fired was Adler when he couldn't control his drug abuse. Matt Sorum replaced him. Stradlin left next to form a solo project, Izzy Stradlin & The Ju Ju Hounds. Gilby Clarke came on board for a while. By the time the group went on its 1993 stadium tour, co-headlining with Metallica, it had become an overblown entity--they added two keyboardists and a horn section, and it was all too much. The group hasn't put out an album of new songs since 1991, and turmoil continues to follow them. Clarke is no longer in the band and no one seems to know for sure if Sorum is still around or not. Slash left late in '96; it is rumored that Nine Inch Nails' Robin Finck will replace him. Nevertheless GN'R (or what's left of it) has promised to make a new album in '97. The big question is: Does anyone still care?